Fair Go casino account
In order to get full access to the functionality of our website, you need to complete the Fair Go casino sign up. When you do so, you will be able to make deposits and withdrawals, play pokies on AUD, and participate in our promotions and receive lucrative bonuses. Don't waste your time and register on our official website.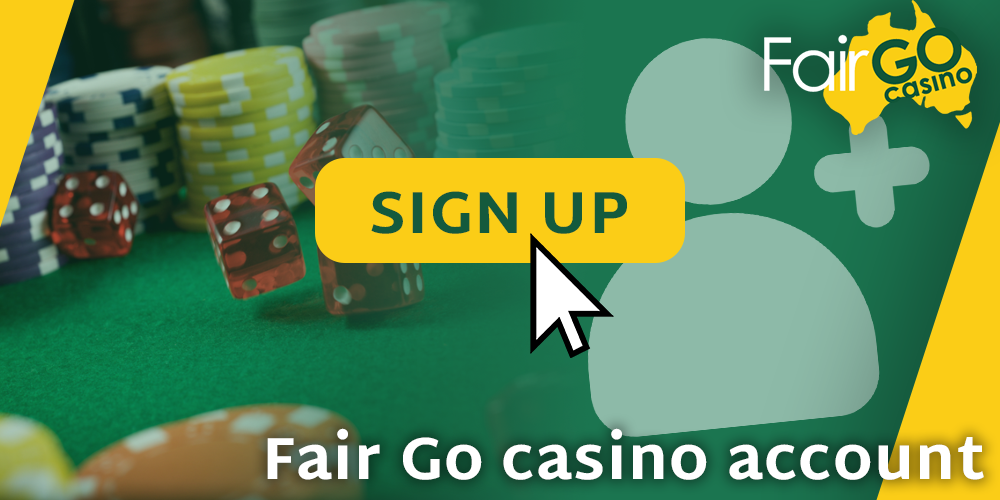 Registration at FairGo Casino Video Review
Watch our short video overview of the process of registering a personal account at FairGo casino for Australian players.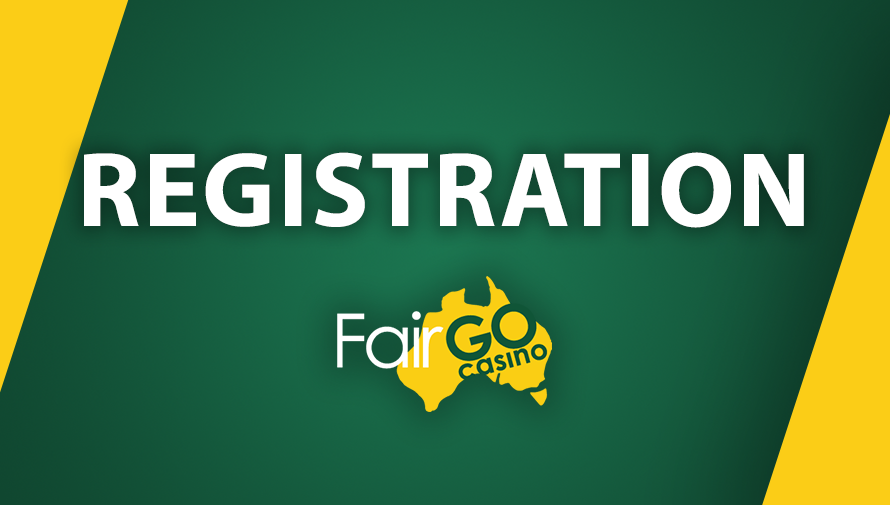 FairGo Casino Registration process
Would you like to register a personal account, but do not know how to do it? We will help you. However, remember that you must be of legal age to sign up for Fair Go and play real money slots.
We have prepared these step-by-step instructions for you: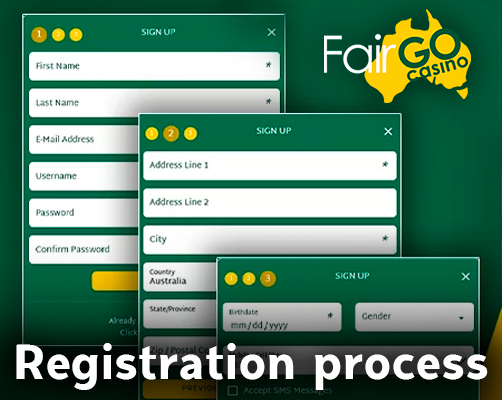 In the top right corner of the page is a yellow "Sign up" button. Click it to start the registration process.

In the first box, you need to enter your First Name, Last Name, email, and Username (which will serve as your Fair Go login), as well as a password and its confirmation. Click the "Next" button to continue.

In the next box, you need to enter your address details, namely: Address line, City, Country of residence, State/Province, and your ZIP/Postal code.

In the last box, you need to provide the following information: Date of birth, gender, and phone number. Here you can specify whether you want to receive notifications by SMS or via your email. In addition, here you acknowledge that you have read our Terms and Conditions.

Click the "Register" button to finish. Now you can make your first deposit, claim the Welcome Offer, and start playing pokies.
If you forget your username or password, you can always restore them. During sign in, select what you want to restore by clicking on the appropriate button at the bottom of the pop-up window. You will be sent an email with a recovery link. Also, you can just write to our Customer Support and our agents will help you.
Entering the Fair Go casino
After registering a personal account, you need to complete the Fair Go casino sign in in order to start playing for money, or in demo mode with a virtual balance. To sign in, follow our quick guide:
Go to our official website and click the "Log in" button located to the right of the "Sign up" button.
Enter your Username and Password.
Now you have two options. If you want to play pokies demo mode, then click "Practice Mode". If you want to play for real money, then just click "Login"
If you are in Practice Mode first, you can easily switch to Standard Mode. To do this, click the "Play For Real" button.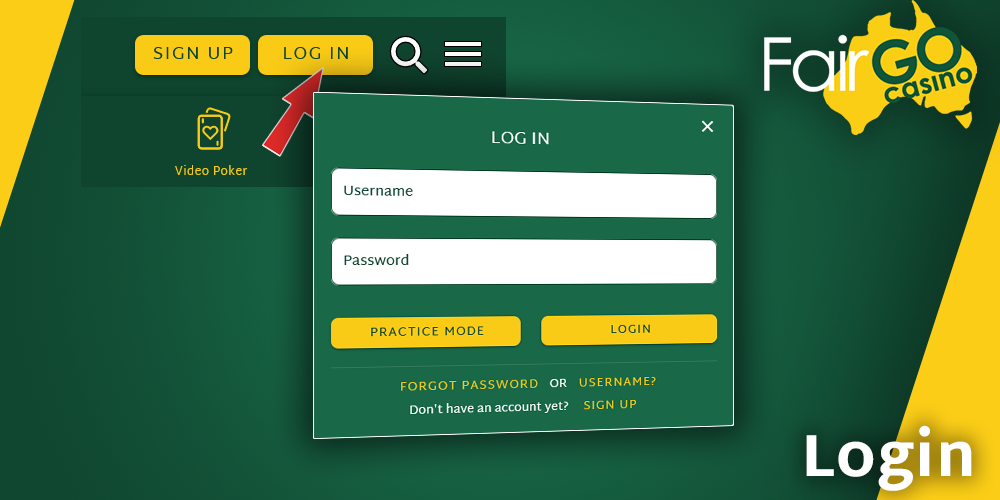 How to register at the FairGo Casino via mobile devices
Making FairGo sign up from a mobile device powered by Android or iOS is no more difficult than using the desktop version. All you need is your iPhone/iPad or Android smartphone/tablet and a stable internet connection such as Wi-Fi, 3G, 4G, or 5G. Follow our instructions: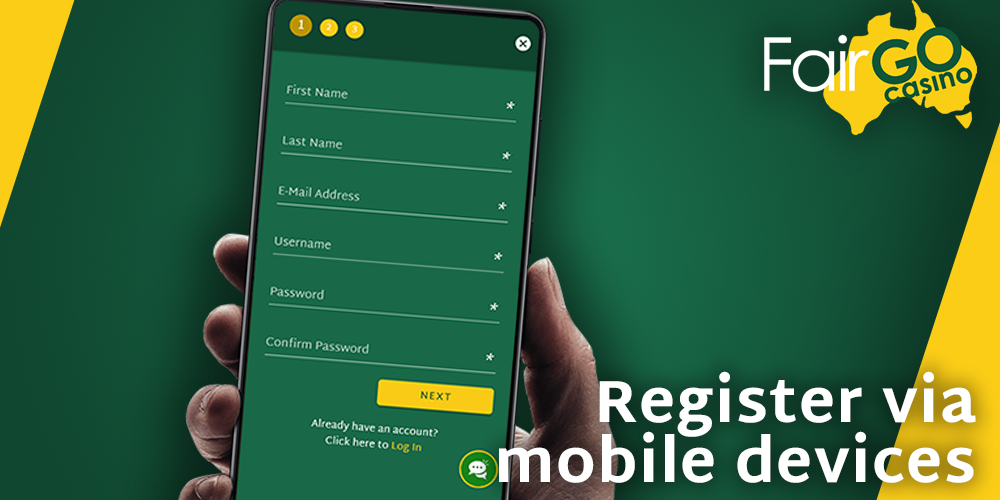 Take your mobile device and go to our official website.

Create a new personal account if you haven't already. If you already have one, then log in.

Try out our pokies using HTML5 standards to make sure the games work correctly on your device.

Make a deposit and claim an attractive bonus.

Start playing on AUD and have fun.
Overview of the Profile info
Our interface does not have a profile button, but we do have the main menu at the top of the page. In the very left corner is our logo, which takes you to the main page of our website.
On the right side of the menu, the first button is the wallet icon and the balance amount. When clicked, a small window will open in which you can view the following balances:
Payable Balance – Your funds are displayed here, which you can use to play slots, tables, and other games at Fair Go casino. Also here is the "Deposit" button, which will take you to the appropriate section in Cashier.
Withdrawable Balance – Here you will see all your money available for withdrawal.
Comp Points – All your Comp Points are displayed here, as well as the "Redeem" button.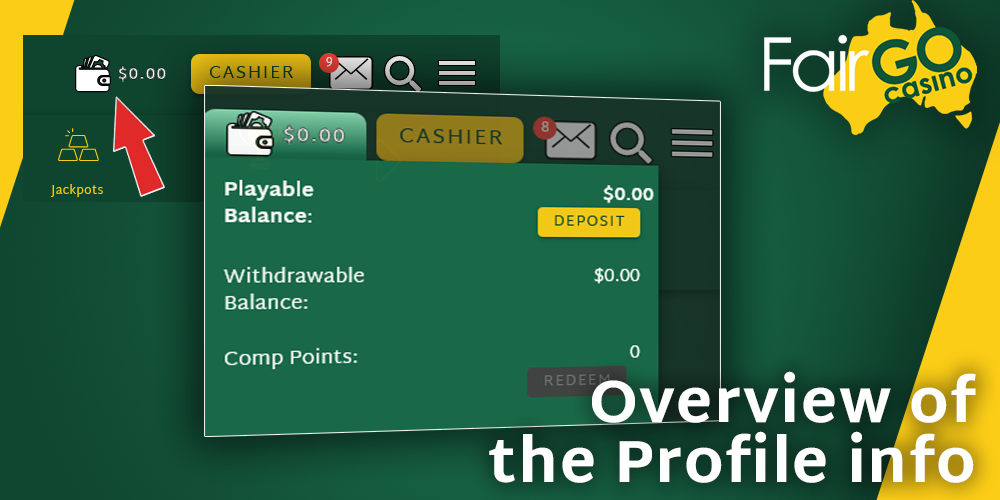 The next button is Cashier. There are only 5 sections here:
Deposit – In this section, you can make deposits using a payment system convenient for you. You can also choose the coupon you want to apply to your next deposit.
Withdraw – Here you can make a Payout request. Also, this section displays the amount that you can withdraw.
Coupons – In this section, you can view current promotional codes, as well as redeem those that are not listed.
My Account – Here you can view your transaction history. In addition, there is also a subsection where you can display the received coupons.
Balance – When you click on this button, you will have a small window showing how much money you have available for cash out.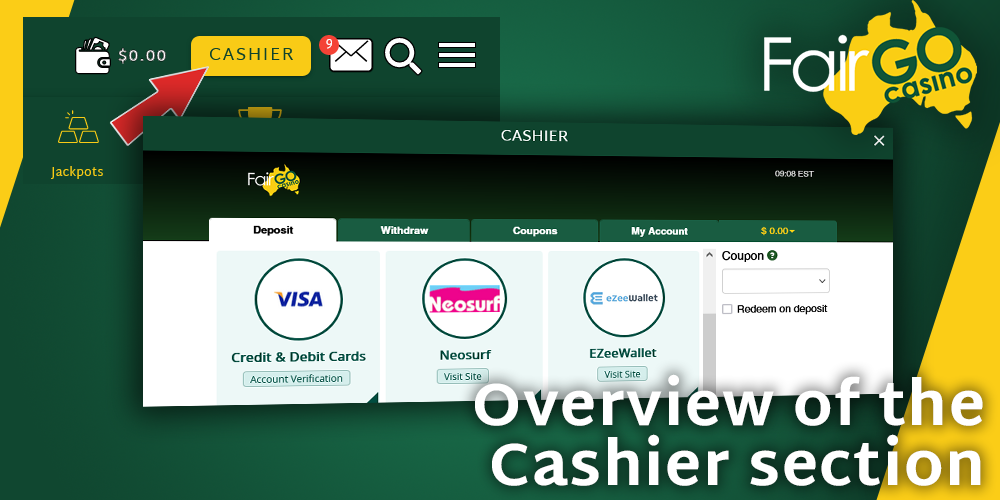 The next button in the top menu is the envelope icon. Clicking on it will open the history of our notifications.
The next button looks like a magnifying glass and allows you to search for games in the Fair go Casino lobby by name.
The last button is the menu button, which looks like 3 parallel vertical bars. Clicking opens a drop-down menu where you can click on the following buttons:
Deposit;
Withdraw;
Banking Methods;
Promotions;
Tournaments;
Account History;
Search Games;
Live Chat;
Terms and Conditions;
Log Out.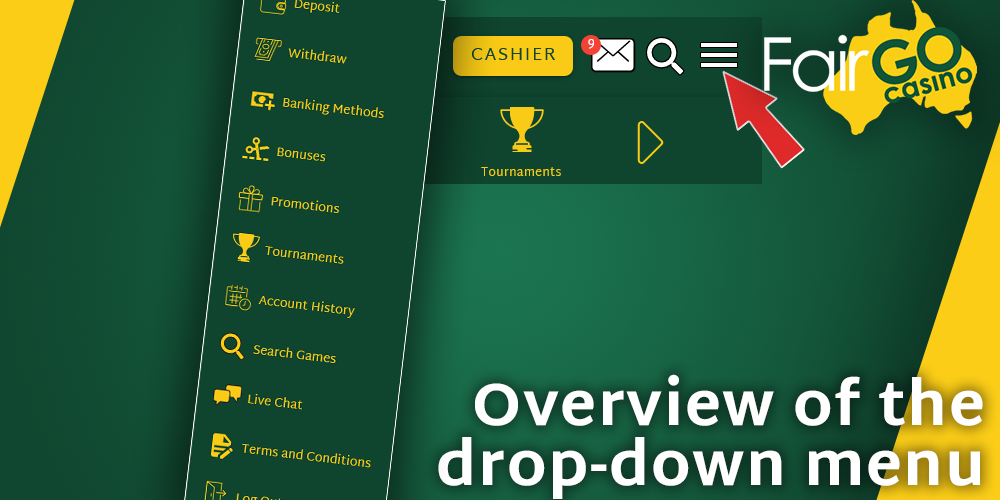 How to make a deposit?
After completing the FairGo casino sign up, you are only one step away from playing pokies for real money. You need to make a deposit and we will help you with that. Follow our guide:
Log in to your personal account on our official website.
Go to the Deposit section in any way convenient for you, for example, by clicking on "Cashier".
Don't forget to choose a bonus, and choose any payment option that is convenient for you.
Enter the desired transaction amount and your banking details.
Complete the deposit process and start playing real money slots.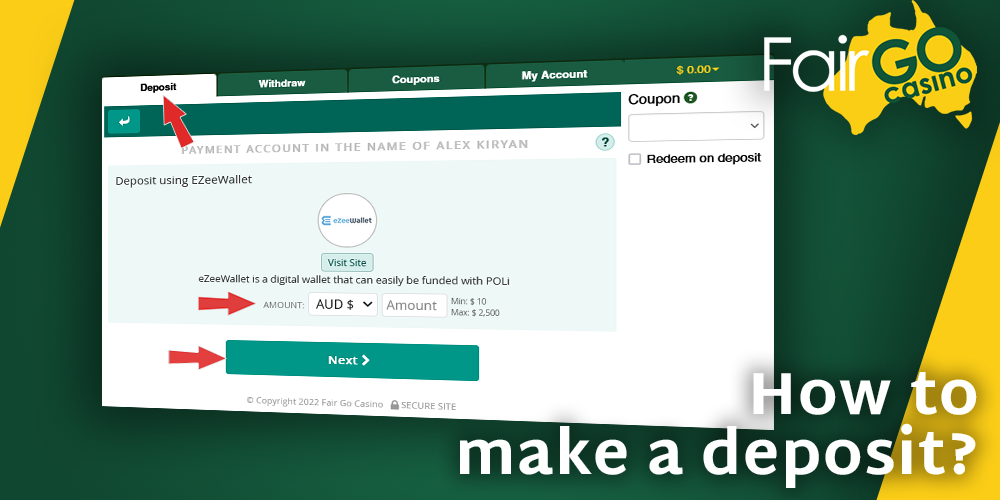 Restrictions of registering at Fair Go casino
Before registering an account, you should know that we have certain rules. They are all listed in the Terms and Conditions. Here we briefly list the most basic rules and restrictions regarding the account:
Every Australian gambler has the right to play at FairGo casino for real money only when they reach the age of 18, that is, the age of majority. In case of attempted fraud, your account will be blocked.
Each player can have only one personal account at a time.
If your account is suspected of theft or bonus abuse, it will be blocked.
If your name does not match the documents provided as part of the Know Your Customer walkthrough, then your account may also be blocked.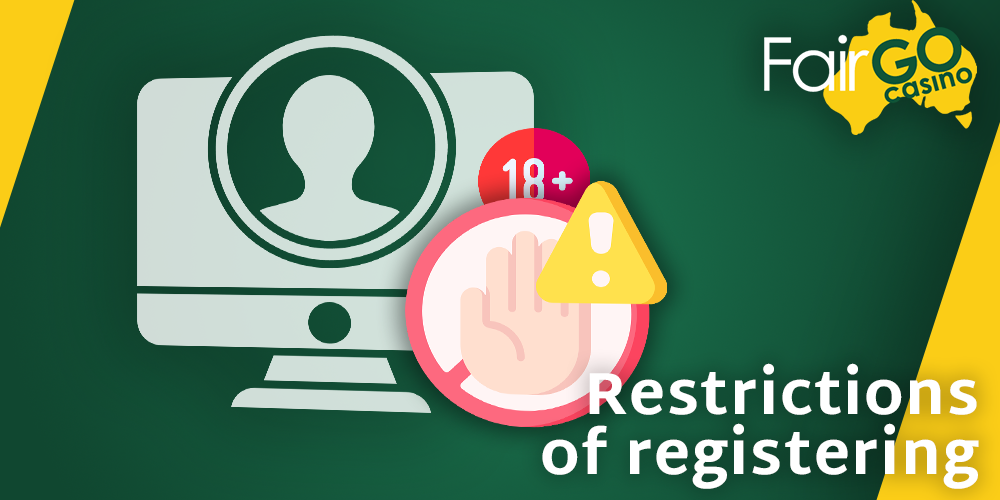 FAQ
Can I have several accounts at FairGo casino?
No, each player is only allowed to have one account at a time.
Can I play pokies at Fair Go casino without signing up?
Yes, you can try most of our slots for free. You don't even have to register, you can just select any game and click "Try it!".
Can I create a personal account at FairGo casino with my mobile device?
Of course, you can do it. All you need is a stable internet connection and your mobile device.
How long does it take to register a personal account?
It doesn't take long, you can register in just a few minutes.
How many years old should I be to start gambling?
In order to start gambling at FairGo casino, you must be at least 18 years old.
Can I change my FairGo casino Username?
Yes, you can. Just contact the Customer Support Service to get help.